Environment and nature
The Marmolada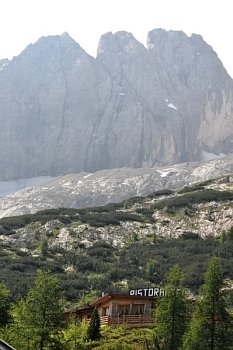 Nicknamed the 'Queen of the Dolomites', the Marmolada reaches its maximum height at the Punta Penia, 3343 m, and is considered the highest mountain group in the Dolomites. Its name might derive from the Latin term 'marmor' meaning marble, or the Greek root marmar-, meaning 'shine' in reference to its snowy glacier.
Some of its glaciers have disappeared; others have been significantly reduced due to global warming. The main glacier is located on the northern slope and is the largest in the Dolomites. This has remained intact due to avalanches falling from the walls of the cirque that is its home, but in recent years it has been significantly reduced and nowadays it is not as imposing as it once used to be during the summer period.
At an altitude of 2030 metres is the Fedaia Lake, the source of the river Avisio. The Marmolada Group has been recognised by UNESCO as a World Heritage Site.
The Ice City
The Marmolada was the setting for battles during the Great War, from 1915-18; in fact the Italian-Austrian front passed over it. Possession of the glacier represented a strategic advantage. This war fought in the high mountains soon transformed into a ferocious duel between mountaineering experts. Weapons, cannons and rations were transported by men to the peaks with the help of steel cables, sledges and pulleys.
In 1916, Austrian troupes occupied Punta Penia and Punta Rocca. The strategic point for Austria was the V-shaped mountain pass from which they could dominate the Italian troupes. To defend themselves against Italian attacks and transport supplies without being struck, the Austrians began to build a series of posts and barracks in wood within the glacier and connect them via tunnels dug in the ice.
Among the principal minds behind what was then called 'The Ice City' was Leo Handl, Austrian engineer and mountaineer. The network of tunnels grew until it reached 12 km and everything the troupes might need was built within: infirmary, hygiene services, telephone station and even a chapel. Furthermore, living below the ice allowed soldiers to escape from the external temperatures which could reach as low as 30° below zero.
When the Italians became aware of the existence of this city, they wanted to use the same tactics to reach the Austrian troupes. And so under the guidance of the engineer Schiavoni, on 22nd September 1917, the Italians succeeded in conquering the V-pass position.
Movement and melting of the ice in recent years has destroyed the tunnels and brought to light many relics of war which have been carefully collected with the Museum of the Great War 1915 - 1918 by Andrea, Dino and Sandro De Bernardin.