Sport and adventure
The Dolaondes Aquatic Centre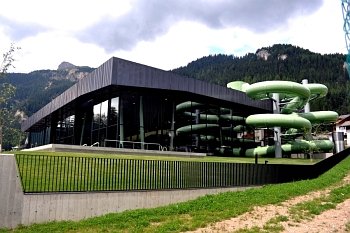 Thanks to the project financed by the SITC (Canazei Tourist Increase Agency) and carried out by architect Ralf Dejaco of Bressanone, the Dolaondes ('follow the waves' in the Ladin language), offers its guests different sensorial experiences: each environment has its own characteristics and services to respond to every need.
The Centre offers:
Half-Olympic size swimming pool (25 m x 12.9 m, depth between 1.35 m and 1.80 m), in line with CONI (Italian National Olympic Committee) regulations, with 5 lanes and water temperature of 28°C.
Fun Pool with jacuzzi beds, this pool is 1.35 m deep and is equipped with neck showers, counter-current bathing and moving whirlpools. The water temperature is 32°C.
KIDS pool (for children from 0-3 years), this pool is livened up with an illuminated grotto, a waterfall and a slide. The water temperature is 34°C and the pool depth is 0-36 cm.
External slide landing pool: the landing pool after descent on the 111 m long slide. The water temperature is 32°C.
External salt water pool: this external pool has an L shape, it is 1.35 m deep and is equipped with 5 jacuzzi beds and three neck showers. The water temperature is 32°C.
Whirlpool: a relaxation area on the first floor, sound proofed with a maximum capacity of 10 people. The water temperature is up to 32°C.
Eghes Wellness
Eghes Wellness is a delightful wellness itinerary that imitates the cardinal rule of Roman baths: the healthy transition between low and high temperatures. It consists of a Finnish sauna, Turkish bath, bio sauna, hot steam room and Jacuzzi, refrigerium, or cold environment, Roman sudarium and relaxation area.
Massages are available in the wellness centre upon booking.
Sport & fitness
Planet Gym is the 183 m2 gym within Dolaondes. It is very well equipped and has changing rooms, the ideal location for anyone looking to keep in shape!