Sport and adventure
Paragliding and hang-gliding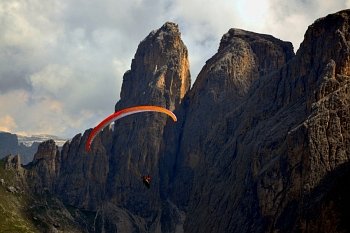 Today numerous hang-gliding and paragliding enthusiasts take off from the slopes of Col Rodella and Belvedere. The free flight discipline is practised mostly in Campitello di Fassa and Canazei where the take-off points are located.
In Canazei, the departure point is Col dei Rossi and flyers land in Ciuk or Ciasates.
Anybody can fly!
Even beginners can try free flight at the Icarus Flying Team school, founded by world paragliding champion Jimmy Pacher.
Let Jimmy take you out on a tandem flight or enrol in a course recognised by the Aero Club d'Italia!