Area
Penia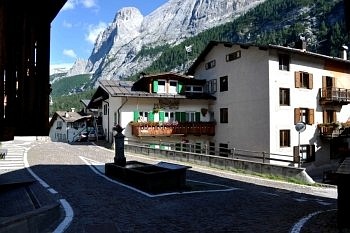 The hamlet of Penia (Penìa in the Ladin language) lies three km from the town of Canazei and is the valley's last inhabited town before the Fedaia Pass and theMarmolada. It is situated along the very famous Via Alpina which crosses the entire Alpine area from east to west.
This 'little village', set on a hill, has the typical appearance of a mountain village, with the church of San Sebastiano and San Rocco set on the peak and the surrounding houses descending towards the valley floor.
The once very rural town has become more of a tourist destination in recent years. In cultural terms, the Venetian Sawmill, local branch of the Ladin Museum which is located downstream, and the Dantone Museum, which tells the history of Val di Fassa, are both very important.
From Penia, it is easy to reach the enchanting Val del Contrin, a haven of mountain refuges where visitors can still watch the making of Malga cheese.
The origins of the name Penia
The name Penia derives from the Latin term 'pendiva' which refers to the slope on which the village is located, although the traditional joke is that the name derives from the Ladin saying "Penìa, che più en ite no l'é nia" or "Nothing lies beyond Penia".
The inhabitants of Penia are called 'Bèles' or 'hernias' because the local farmers used to suffer frequently from this affliction due to the hard work and cold they were subjected to.
Lorenz and Verra
Two separate small settlements are found in the village of Penia: Lorenz and Verra. Very few families live there nowadays but they are truly enchanting places as well as being very characteristic.
Verra (1675 m), whose Ladin name Vera means, 'fertile meadow', used to be the highest settlement in Trentino. Here visitors can still see the typical constructions of times gone by. The church dedicated to the Holy Virgin Mary 'Mater Amabilis', with its bell gable, should certainly not be missed. Lorenz (1636 m) also has a church, which is dedicated to Mary the Helper (1732). The crucifix is the work of local artist Andrea Soraperra and was created to replace the one stolen in 1979.