Environment and nature
The Sella Group
Mountainous group in the Dolomites set between the Ladin valleys of Gardena, Badia, Fassa and Livinallongo. The most important and well-known peaks in this circular massif are:
Piz Boè (3152 m)
Le Mesules (3000 m)
Cima Pisciadù (2985 m)
Piz Gralba (2975 m)
Sass Pordoi (2950 m)
Piz de Ciavazes (2831 m)
Torri del Sella, Piz da Lec (2850 m)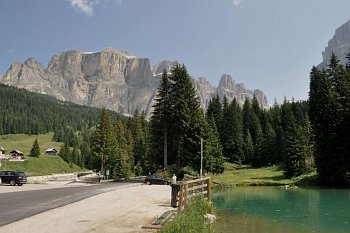 The ski area includes various different zones: Canazei – Belvedere – Pordoi, Campitello – Col Rodella – The Sella Pass and Alba – Ciampac – Marmolada. The famous 'Terrazza delle Dolomiti' (Terrace on the Dolomites) and Rifugio Maria are located on Pordoi, from where visitors can enjoy a 360° view over all the most beautiful summits and where the annual food and wine show 'Simposio top wine 2975' is held.
There is no shortage of musical events on the Sella Group, such as 'The sounds of the Dolomites', which has also become an annual event.
The Sella Pass (Jouf de Sela)
This Alpine crossing, situated between the Sassolungo Group and the Sella Group, connects the village of Canazei with nearby Val Gardena. Just like the Pordoi Pass, it makes up part of the Sellaronda ski circuit, or the Four Pass Tour, and the Dolomiti superski ski district.
The most important mountain in the massif is Cima Boè (3151 m), which can be reached in one hour from the Pordoi Pass cable car station. Rifugio Boè is located on Piz Boè, as it is known, and can also be reached from Sass Pordoi along path 627.
Passo Pordoi (Jouf de Pordoi)
Located just 12 km from Canazei, between the Sella Group and the Marmolada Group, proudly stands the Pordoi (from 'pradói' – pastures), an Alpine crossing that divides the province of Trentino from Belluno.
The Pordoi, one of the Passes along the Dolomite Road is a famous ski resort and is part of the Sellaronda ski circuit and Dolomiti superski ski district.
The Sass Pordoi, to the north of the pass, is extremely famous in the mountaineering world for the climbing routes that have been created up it, one of these the ancient Via Maria created by mountaineer Tita Piaz. Moreover, the Pass has been a stretch in the Giro d'Italia on several occasions.